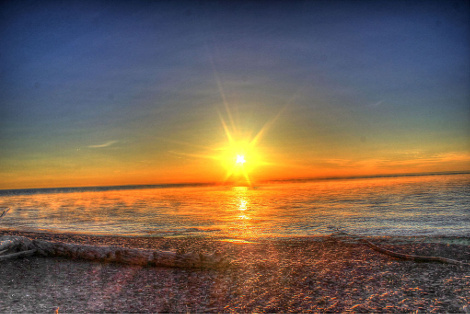 Quotes on the Age of the Moving Cities
by
In William Hope Hodgson's The Night Land, the unnamed narrator has rescued Naani (Mirdath reincarnated). They have been talking about the days of old, and the Sun, which Naani does not remember clearly, althought she recalls the light. But suddenly she recalls an age when the rotation of the Earth has slowed, and Mankind lives in Moving Cities that follow the Slow Sun around the Earth on a great Road.
And so did I tell Mine Own Maid of the things that I did learn from the little metal book; and she to be in a constant wonder and delight and with an awe and newness upon her. And sudden, there did some olden memory stir within her; for she askt me, in one instant, whether that I did remember when that the Cities did move alway unto the Westward.
But truly I had no remembering of this thing, and did look at her awhile, with somewhat of a trouble upon me; for, that there should be aught lacking in my memory of those times that we did be together upon this world, was a fear unto me, and a vague sorrow alway, if that I did but to let my thought go that way; though, indeed, I did ever strive to wiseness, and did have knowledge that there doth be an heart-wearing and despair and needless trouble in vain regrets; but yet these to be natural unto the spirit, if that you to know love; and do be but the complement of the love-joy, and mayhap to have a use unto the sweetening of the spirit, if that they be not let to over-ride the reason.
And whilst that I did look unto Mine Own, that she help me to remember, she did strive with her Memory. But in the end, did fail to come unto aught of clearness, save that she did see, as in a far dream, yet very plain, a great metal roadway, set in two lines that went forever unto the setting Sun; and she then sudden to say that she did see in her memory the Sun, and she to have a strange and troubled amazement upon her. And there did be Cities upon the great road; and the houses did be strange-seeming, and did move forward eternally and at a constant speed; and behind them the Night did march forever; and they to have an even pace with the sun, that they live ever in the light, and so to escape the night which pursued forever, as she did tell, and a dread and terrible chill that did live in the night. And there did be cities far forward in the morning Sunshine, that did have gone before at speed, and set the husbandry of the world, and to be finished and gone forward again ere that certain of the latter cities did come to that place to the reaping; and the night to come presently to that place; but this not to be for some part of a year after that the crops were taken. But how long this might be, she not to remember.
And all this the Maid did say to me, as out of a strange dream, and I to have set it down, and to have made it so clear to you as she to have told it; and surely it doth be plain then that she to speak of a time when that the day did be grown to a monstrous length, because that the world did turn but slow and weary.
And it to be a sureness, as you shall perceive, that but to stand still in that age of which Naani told, was to be left presently in an utter night and chill, that should last mayhap a great and weary year. And, in verity, it doth seem that all Humanity did travel forever in that strange age, when that to stay was to die unprepared in the bitter night, and to go forward, was to be forever in the sun. And truly, this doth be so strange seeming to me, as to you.
And much I questioned the Maid, and did have an hurt within my heart, and a pain of jealousy and sadness to grow in me; for surely she did speak of some life that she did live, when that I did be elsewhere, either in Life or Unknowing. And, in verity, what man then should have taught Mine Own to love him? And she then mayhap to have had no remembering of me.
And truly I questioned very desperate, and the more so because that I was yet weak, and lacking my strength to be composed. But she neither to remember me nor any other man of that time; and to have no memories, save these bare things that she to have spoken out so strange, and which did come sudden unto her out of all the deepness of the years and the lost sorrows and joys and wonders of that which doth make a World of Humans.
And surely my questionings brought a distress upon Mine Own, both because that she did be troubled by the way that my love did bring me to this strange anguish, and because that she also to have pain, and a sudden fear that there did be ever a time when she not to have known me, or to have permitted the arms of another.
And she did then strive that she be both wise and strong, and to give help unto me, and to take reason unto her own easing. And truly she to show how that she did be all unknowing of any love in that far backward time; but it to be possible in reason that she to have gone to another, in natural course, the while that her heart did yearn alway in vague trouble unto Her Own, that her spirit did mayhap never to have forgotten. And, truly, this doth be the way of Life, and a bitter thing and a sorrow to Joyous Love to think upon; yet I here to be set to the tellings of Truth, and to have heed to all that reason doth show to be.
But Mine Own did also have us both to remember that there did be equal right to think that she had died Mine Own Maid in that life; for that it did be not out of reason to think that she had been void-hearted unto all men, because that she had known in her spirit that she did once to meet Her Own, and did be thereafter untuned unto all other men that ever did live. And this all to be in a mist, and we to go vainly. And of her will, she did think that no man did ever to have possessed her, save I; yet this to be mayhaps only the prompting of her love; and she then to kiss me, and to say that there did be no surety in aught, but only that we did have been together before, and have borne a love so great that it did live through Eternity; and we to be now together, and maybe all else to be but dreams.
And truly I did have a fierce hope that this be so; and the Maid likewise so to hope, yet to be less bitter with rebellion than I, though in pain upon the thought; for she did be so utter and dreadful glad and in happy thankfulness that we did be now come together again in the end; and did mean that she conquer all that should be like to set a greyness upon our joy, and to be steadfast unto this end.
And I afterward to be likewise in wisdom, when that I was come the more to strength, and to mind that I suffer vainly for that which did have no surety, as I have shown; and moreover I did have no power upon the past, either to learn aught or to mend aught; so that I did go the way of an Human, and did shake free from these broodings, and strove unto forgetfulness; which, in truth, doth be both a Terror and a Mercifulness, as doth chance. And I kist Mine Own Maid, with somewhat more of the years within my love; and she to kiss me very sober and dear; and to desire only for my happiness, and to be utter mine own.
---
Quotes from William Hope Hodgson's The Night Land, which is in the public domain.
Image by Yinan Chen (www.goodfreephotos.com (gallery, image)) [Public Domain], via Wikimedia Commons.