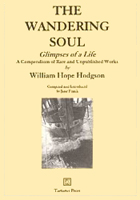 Jane Frank purchased some of Mr. Hodgson's old papers and discovered interesting things therein; she describes the process in "William Hope Hodgson's Sales Log: The Pleasures and Consequences of Collecting" in Sargasso: The Journal of William Hope Hodgson Studies Volume 1.
The quote below is from her book of rare Hodgsoniana, entitled The Wandering Soul. It is available as a limited edition hardcover published by Tartarus Press, as well as in ebook form. Ms. Frank has also rediscovered and edited a volume of poetry, The Lost Poetry of William Hope Hodgson, available in hardcover and ebook form, similarly published by Tartarus.
---
The following passage was inscribed by hand on the endpaper of a copy of The Night Land which Hodgson gave to a girl he called "Scraps" in 1912.
To Scraps,
That impudent maiden to whom
I first told the ever shaping tale
of The Night Land
From
Hope —
March 22nd
12
Do you 'member how you used
to shiver when the Night Hounds
bayed; and how quietly it was
needful to go past the House of Silence — eh?
"Scraps" was one Wilhelmina Bird, the very young daughter of a friend.
Hodgson apparently struck up a friendship with the Bird family some time before 1905, one close enough for him to stay with them for a month at the start of that year.
He sent their young daughter several first editions of his works between 1907 and 1916.
She was eighteen years his junior and to what degree she was an inspiration for Naani must remain conjecture.