The Night Land Journal
After the latest update, my installation of Firefox on Linux quit loading the menu and header font. Since Firefox on Windows and every other browser correctly loads it, I believe they introduced a bug, and I'm not going to change the site to accommodate it. I switched to Chromium.
Under the Background menu there is now a Cosmos section, where I will be adding quotes from Mr. Hodgson's works (and perhaps a few others'): these will be the important that describe history or some important aspects of how the world works. There is presently one section from The Night Land involving the Days of Light.
Details

Written by

Kate Coady

Category: This Site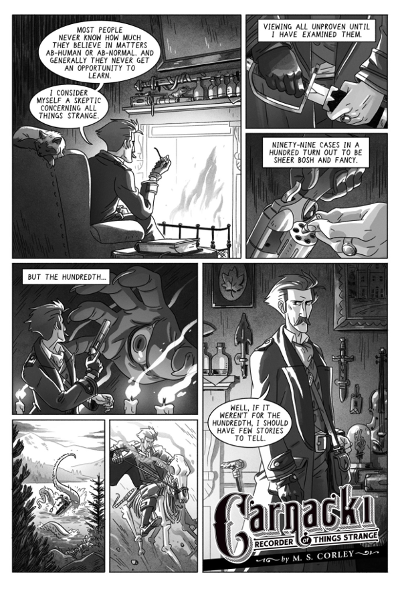 M.S. Corley is working on a comic called Carnacki, Recorder of Things Strange. He's planning to release the first volume later this year. It looks quite good (obviously).
John Linwood Grant has a new post on Carnacki at Grey Dog Tales which gives a good list of the new Carnacki stories published; and he also discusses Thomas Carnacki as a character with more human weakness than one commonly finds in the occult detective genre.
Details

Written by

Kate Coady

Category: News
I've added missing links to Brett Davidson's republished stories to the Timeline and the Chronological List of Stories, as well as his author page.
I'm now also working on the Multimedia Gallery. I'm not sure how long that's going to take — a few days, at least.
The Links page needs many links, also.
Details

Written by

Kate Coady

Category: This Site
I didn't realize I hadn't put Mr. Davidson's fine story Imago back up until I was adding some links to the Timeline and discovered the story wasn't there to link to. It's up now!
Details

Written by

Kate Coady

Category: This Site
If I posted very much about H.P. Lovecraft, I could easily drown the weaker William Hope Hodgson signal. Nevertheless, most fans of Mr. Hodgson are also interested in Mr. Lovecraft's work.
Considering the sort of discussion that used to take place on the Night Speech bulletin board, I think some of you will appreciate Fred Lubnow's Lovecraftian Science blog, in which he frequently considers Mr. Lovecraft's works from a scientific point of view.
He has published The Journal of Lovecraftian Science, Volume 1 in paperback and ebook format, and is presently preparing Volume 2.
Details

Written by

Kate Coady

Category: News